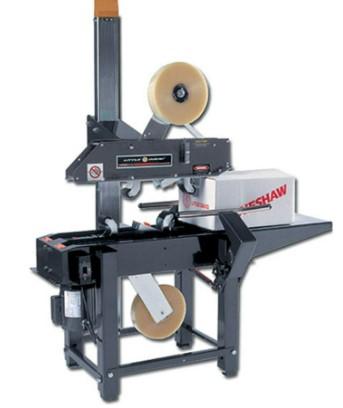 LD-7 Case Sealer
The LD-7 Case Sealer is a cost-effective solution designed for businesses in need of both top and bottom case sealing. It's tailored for large production runs with uniform cases or applications that demand infrequent case size changes while maintaining a compact footprint.
Key Features:
An excellent choice for reducing labor costs, the LD-7 eliminates the need for manual case taping and the use of potentially hazardous machinery.
This model requires minimal maintenance and offers straightforward single-hand tightening adjustments.
Its portable, compact design ensures versatility in any workspace.
Enjoy hassle-free plug-and-play operation, making it easy to integrate into your workflow.
Minimal operator training is needed, streamlining your production process.
The sealed drive system guarantees consistent and reliable performance.
Equipped with the CaseLocker ST® tape cartridge, which requires no lubrication, reducing maintenance demands.
The single mast design provides clear access for efficient case handling.
Safety is a top priority with the knife guard system of the CaseLocker ST® tape cartridge, ensuring that the blade is exposed only when the rollers are depressed.
Upgrade your packaging process affordably and efficiently with the LD-7 Case Sealer – the perfect solution for reliable and safe case taping, while keeping costs in check.
CF50-T
The CF-50T is a high-performance case sealing machine that automates the formation, folding, and bottom sealing of various corrugated cases. It's versatile, handling everything from double wall to recycled material, and can process up to an impressive 20 cases per minute.
Key Features:
Efficient 150-load on-the-fly case capacity, with an optional 300-case capacity upgrade accessible from both sides of the machine.
Chain and lug drive system ensures precise case squaring and accommodates variations in corrugated dimensions.
Equipped with an Allen-Bradley Micro 820 PLC featuring Ethernet connectivity, sensor functionality, jam detection, and a handy photo eye for detecting box backups.
User-friendly Eaton HMI provides machine diagnostics, warnings, an Ethernet port, case setup instructions, storage for up to 10 case size parameters, and bilingual support (English/Spanish).
Chain-driven powered hopper ensures reliable case feeding, eliminating the risk of misfeeds associated with gravity hoppers.
Boasts a powerful 1/3 HP motor for exceptional efficiency.
UL listed 508A enclosed panel certification guarantees safety and reliability.
Fully guarded with a magnetic interlocking safety gate, preventing access to moving parts and automatically shutting off air and electric when gates are opened.
Complies with the NFPA 79 Electrical Standard, offering comprehensive protection against fire and electrical hazards.
Seals cases of the shortest length and lowest height with precision.
Customize your machine with a choice of 51 mm or 76 mm (2" or 3") tape cartridges.
Self-tensioning chain drive system reduces maintenance and saves time by eliminating the need for adjustments common in side-belt drives.
Elevate your packaging process with the CF-50T from Loveshaw – the ultimate solution for reliable, efficient, and safe case sealing.